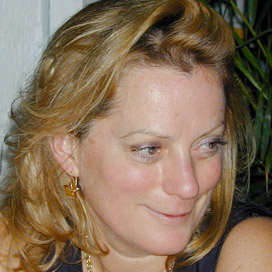 Artist statement
To look… to feel…
to manifest my love of Nature, its strength, its orgasmic energy, that gives birth to, and expresses itself in an infinite variation of shapes,
flowers, light of the skies…
I feel a source, a Life pulse, ceaselessly renewed, always present, in me, and in all things alive : I admire the fragile flower, so determined, that grows on concrete, in spite of everything…
My "finite" painting opens to the Infinite.
Where the figurative or abstract shapes, uncluttered or detailed, become movement, vibrations, emotions of joy, of peace…
Acrylic, watercolours, Indian or coloured inks, I have chosen techniques that are instantaneous, explosions of energy, that dry quickly, demand a steady rhythm, a subtle play between mastery and letting go, the intention and the surprise.
To grasp the essence of this Life pulse… ancestral and yet so contemporary… primal scream… vital breath… I am dazzled by its beauty and harmony.
Explosion of the sunset
Explosion of the bouquet
Explosion of the ocean
Explosion of the colours
I love the initial power of a "big bang" of lively colours.
Biography
I was born in March 1955, by the Mediterranean sea. Early years… memories of blues… the ochre of the earth, the smell of bougainvilleas, the bright colors of the flowers… a childhood and adolescence by the Atlantic Ocean, in Lacanau Océan near Bordeaux, where I picked up my love and inspiration of the ocean, the forests…
The appeasing wild that I already liked to draw.
At age 20, I moved to Paris and went to art school : Atelier Albers for two years… Simultaneously I discovered psychology, that became a passion as well… When I was 28 I deciced to become a psychotherapist and created a practice in the heart of Paris, the Marais district, until June 2006.
I have continued to draw and to paint all these 25 years… and studied with several painters, participating in numerous training classes.
At age 40, a country home in Burgundy near Chablis allowed me to go back to art school : Beaux Arts in Auxerre… Ten years of sheer joy… painting in the countryside, the waterlilies on our local river Serein…
In 2000, I have decorated my practice, 700m2 in the heart of Paris, with paintings of very very big poppies. It was a great success… : I got my first proposal for an exhibition in Paris.
I ended my psychotherapist career in 2006, I was 51 years old… and wanted to start a new life as a painter.
I participated in the 2012 Art en Capital – Grand Palais, Champs Elysées. The following month I was in New York. This exhibition kicked off my career in the US and internationally.
After exhibiting in various places in France since 2000, I have opened my own galleries :
In 2007 in Sainte Vertu sur Serein, Burgundy, near Chablis
In 2009 by the Atlantic Ocean in Lacanau, Aquitaine : a studio
2010 to 2017 in the heart of Paris… near Les Halles and the bustling Montorgueil street, high Marais district
2018 : a year of great changes…
As I am now being represented by art dealers and a number of web sites, I have closed my gallery in Paris and moved to Lacanau Océan.
Moving and settling in Aquitaine, along with setting up my activities there have kept me busy for the whole year.
I am being represented by art galleries worldwide, Miami, New York, Houston, Shanghaï, Beijing, Seoul, Rome, London, Berlin…
and online art galleries : Saatchi Art (Los Angeles), Artsper (Paris), Singulart (Paris), Kazoart (Bordeaux), Art majeur (Paris), Artliance (Paris).
My paint style
Painting the Pulse of Life
I have called my series of bouquets "Big Bang". I love the idea that
each flower, each butterfly, repeats this initial explosion.
I love the idea that their apparent fragility can bear the intensity of
such an explosion of energy.
I love the idea that this energy meets ours, echoes it.
I love the idea that, in a metaphoric way, it reminds us of
our human condition : fragile and yet powerful.
I love the idea that a fragile flower reminds us of our "appetite of life".
I love the idea that a flower, as simple and wild as a poppy,
calls us to elegance and our desire to live.
I love the idea that every one feels this Pulse of Life inside,
that they have been carrying and have been responsible for
ever since their first breath.
I love the idea that my painting may contribute to feeling beautiful,
strong, determined and confident.
I love the idea that contemplating my flowers can be pleasant,
sometimes appeasing, sometimes stimulating.
I love that my belief in the Pulse of Life meets yours.
I love the idea that every one seeks to express this pulse of life
in as many billions of ways, projects, cultures, as there are humans.
I love life…